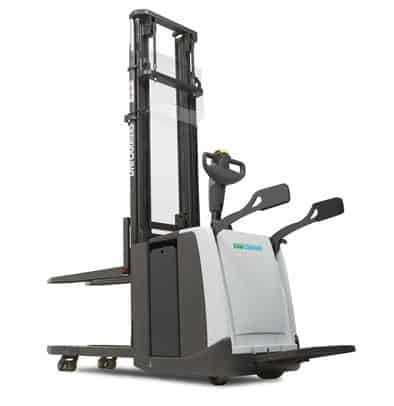 • A robust, versatile, easy-to-use double pallet stacker for different material handling operations such as loading/unloading, transport, order picking and stacking.
• Folded down at the operator's convenience, the robust operator platform features efficient damping to provide a safe and comfortable working environment during long shifts.
• The easily foldable protection bars protect the operator.
• A range of fixed operator platforms are also available as options.
• The PSP offers a wide range of possible options and different capacities, making it suitable for a wide range of duties.
• From heavy industrial to light handling tasks, from intensive 24/7 shift work to intermittent usage.
• For multi-shift applications, the battery is placed on rollers, for quick and easy sideways changing.
• Allowing for long travel distances and extended work cycles, the folding operator platform has excellent damping, while the operator is protected by foldable protection bars (optional).
• A number of fixed platforms are available as options.
• The low chassis prevents foot injuries, and the compact design together with power steering fixed (optional) facilitates manoeuvring in tight spaces.
We'd love to hear from you…