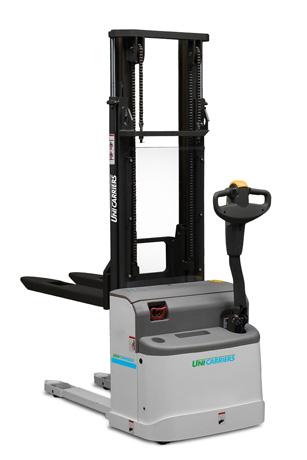 • The PS is a robust, powerful, handy pedestrian stacker for flexible use in tight spaces, suitable for handling open load carriers.
• The ergonomic tiller head is designed for ambidextrous use and features easily accessible controls to facilitate handling.
• The Tiller Up drive option with the tiller arm in the upright position makes it possible to work in even tighter areas.
• The PS is a robust, versatile, easy-to-use truck for different material handling operations such as internal transport, order picking and stacking up to 3,590 mm.
• The offset tiller arm makes it possible for the operator to walk beside the truck and features a display and keypad for PIN code entry.
• This gives full visibility over the fork and load and reduces the risk of foot injuries.
• Three different operator category settings ensure the operator has access to the right performance depending on driving skills and prevents unauthorised use.
• The ATC T4 controller, including an advanced fault code function, contributes to fast trouble shooting.
We'd love to hear from you…