About Magnum
A supplier of caravan and motorhome parts based in Grimsby has reached new heights with a helping hand from the Immingham branch of Windsor Materials Handling.
Established in Grimsby in 1992, Magnum Motorhomes & Caravan Supplies is a family run business specialising in building materials and accessories for caravans and motorhomes. Operating from a facility working as both a warehouse and a customer-facing retail environment, the business needed a new way to retrieve stock from the high racking.
Making the right choice
"With up to ten customers browsing the aisles at once, Magnum needed a compact solution to ensure optimum safety and space to walk around," said Windsor sales manager Steve Austin. "After taking multiple factors into consideration, I recommended a JLG Toucan Duo vertical mast lift."
The compact dimensions and low stowed height of the Toucan Duo allow access to confined space areas, while the six-metre working height, 130kg platform capacity and great turning circle make it ideal for the application at Magnum Motorhomes.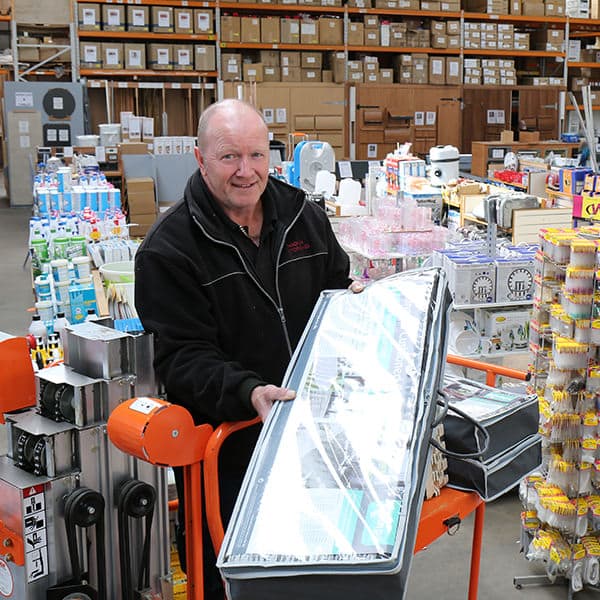 Magnum was founded when Ken Carter, after years of building caravans for Abbey Caravans, decided to begin building his own motorhomes and selling surplus caravan parts. Since then, the business has manufactured all types of conversions, from coach-built to panel vans, race units and even a 52-seater coach. More recently, Magnum has become well-known for being one of the UK's largest stockists of building materials and accessories for caravans and motorhomes.
The results
" When Steve first recommended the Toucan Duo, we were sceptical because it was only available brand new, but when we trialled the piece of equipment we knew it would have to stay," said Magnum managing director, Ken Carter. "We reallocated a few of our stock locations to ensure it had a clear path to all the high racking. The machine has revolutionised our day-to-day operation, it's extremely rare we ever get the ladders out now!"

Ken Carter
Windsor's Immingham branch is based just a 15-minute drive from Magnum's store, meaning the business also receives a fast response when advice or an engineer is needed – especially beneficial during busy times.
"We supply to trade, public and DIY enthusiasts," continued Ken Carter. "While we do get especially busy during spring when we start to experience more sunny days, we are also busy throughout winter with customers aiming to get their motorhome ready for the warmer months."
Ken believes introducing the JLG Toucan Duo to his shop has sped up the order fulfilment process, as workers can retrieve items at any level with simplicity. Magnum employee Tom was especially pleased with the new equipment. "It does exactly what it says on the tin, I don't know how we managed without it! It's firm, stable and you feel safe on it. It is a magic bit of kit and I'm really surprised at how well it works in small spaces."
Now in its 10th year of providing access equipment as part of its first-class portfolio of services, Windsor is a unique player in the materials handling and access industry, having remained independent throughout its 40 years of operation. Ken Carter concludes: "I can't fault Windsor at all, they have provided a great service. The engineers are flexible and Steve is always on hand whenever we need advice."