Nothing ventured, nothing gained…
7 reasons to arrange forklift training on-site
It's now been a year since Windsor opened a dedicated forklift training centre, and our east coast counterparts have seen significant take up of the wide range of courses on offer at the Immingham-based facility.
But it's not just businesses located a stones-throw away from the Cleethorpes seafront that can take advantage of our training courses. In fact, it's better if you aren't. Leave it up to our skilled instructors to travel the length of Lincolnshire and come to you instead!
Here at the Sleaford branch of Windsor, we think training undertaken on customer sites has a variety of benefits…
Familiar surroundings, better performance
Ever nailed a speech in front of your other half at home, but suddenly develop stage-fright when doing it for real? Well the same can be said for forklift training. If trainees are comfortable in their surroundings, they are much more likely to learn quicker, resulting in more efficient use of machinery when the course is complete.
Learn to operate specific equipment to be used for the actual work
We might provide training on a wide range of machinery, including counterbalance, reach trucks, powered pallet trucks (PPT), rough terrain, scissor lifts and boom trucks – but it is difficult to replicate the exact equipment, stock and space available for every customer in a training centre environment. Using specific equipment that will be used for the work at the end of the training means employees will come out of their training fully ready to take on the task at hand.
Monitoring trainee progress
Having training courses take place on site can also mean management can keep an eye on the progress their employee is making. This can be especially useful when the trainee is a new employee. Finding out how quickly your new starters grasp things can be priceless to successfully running an efficient operation.
Safety policies and other rules will be adhered to from the start
Our training centre in Immingham can offer dual accreditation from the industry recognised Road Transport Industry Training Board (RTITB) and Independent Training Standards Scheme and Register (ITSSAR), but teaching multiple trainees a different set of house safety rules would make things really complex for our training staff. If, however, our instructors are based on your site throughout the training course, your specific safety policies will be followed from the start, meaning productivity is maintained while health and safety issues are prevented too.
New personnel can start interacting with their colleagues
Another benefit of bringing training courses to the actual workplace is the opportunity for trainees to start interacting with personnel they will be working with during actual operations. Relationships are an important factor in running an efficient operation, and this interaction is better off not delayed.
A chance for managers to share knowledge
Training on-site also provides an opportunity for trainees to pick up skills and knowledge from senior employees. When new employees finish the course and finally get their ticket to ride (a forklift), they are already acquainted with the operation and are much more likely to adapt to the workflow faster.
The sheer convenience of staying put…
…and letting our experienced training instructors bring the knowledge to you!
Training Facility Reduces Accidents
With the number of distribution centres rising thanks to the growing popularity of internet shopping, the use of forklifts is becoming more common, meaning added risk for forklift-related accidents. As demand rises, businesses take on more temporary workers, making warehouses busier and increasing the risk of accidents further.
To help reduce the risk involved with driving forklifts, Immingham is now home to a new training centre designed specifically for courses on a wide range of materials handling equipment. The local branch of a leading materials handling supplier is offering courses to businesses and individuals from the new facility.
The new training facility, opened by Windsor Materials Handling, is dual accredited with both the Road Transport Industry Training Board (RTITB) and the Independent Training Standards Scheme and Register (ITSSAR), which are widely recognised in the industry.
Available in either the Immingham-based centre or on the customer's own premises, accredited training will be delivered on all types of materials handling equipment including counterbalance, reach trucks, powered pallet trucks (PPT), rough terrain, scissor lifts and boom trucks. Windsor is also offering health and safety courses, including safety passport, as well as first aid training.
John Smith, the award-winning training manager who is fronting the scheme alongside senior instructor, Ian Kaminski, explains the importance of training. "There is a legal imperative here. Training is the only way for organisations to demonstrate that they have taken the necessary measures to ensure equipment is operated not only safely but correctly and in accordance with approved operating procedures. Businesses that conduct proper forklift safety training not only benefit from improved efficiency, but reduce the risk of injuries to operators and damage to equipment too."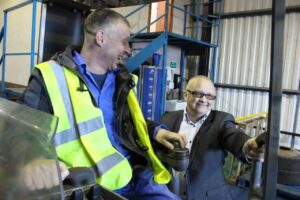 John and Ian's combined history makes up over forty years of instructional experience across a wide range of industries including the engineering, food and construction sectors, as well as the petrochemical industry. "We offer training at all levels, so whether you are a business looking to offer your employees a refresher course, or an individual who is hoping to kick-start a career in materials handling with a beginners' course, we will have a solution to fit your needs."
The opening of the training centre is part of Windsor's wider initiative to deliver operator training across the UK in an attempt to help control forklift accident rates. "Forklift driver safety is at the top of the agenda at Windsor," says Stephen Burton, managing director at Windsor. "Forklifts are powerful tools, and if not used correctly, can result in damage to products, and even loss of life. Accidents are all too common and we have made it our aim to help customers to minimise their risks by providing sympathetic and professional training to operators; ultimately improving safety and efficiency in facilities across the UK."
The name Windsor has been synonymous with materials handling and access systems since 1976, providing a first-class range of used and new forklifts for hire and sale. With 12 local branches throughout the UK, Windsor also offers servicing and parts for existing fleets.
For more details or to find out how to enrol on a course, visit www.windsor-mh.co.uk/training or contact the Immingham branch on 01469 577 777.