Windsor Materials Handling has been awarded a nationwide contract for the supply and maintenance of equipment for the UK's largest integrated forestry business, BSW Timber.
The deal was awarded following Windsor's success in the timber industry with Baumann sideloaders, which play a vital role in the BSW fleet.
Windsor's strategy of developing local expertise and infrastructure was seen by BSW as a major benefit to the business, which has seven sawmills across the UK, from Southampton to Fort William.
The company is an influential player in the timber market, being praised for its sustainability efforts across five main operating divisions – tree nurseries, forestry, sawmilling, timber manufacturing and energy.
"It is great news for us to be working with such an influential company," says Windsor senior national accounts manager, Jason Jordan. "We have a good track record in the sector and a great product offering."
BSW manufactures and supplies a wide range of sawn products for an array of industries, including fencing, landscaping, cladding, construction, DIY, decking, and packaging. The company also offers fencing components – such as posts, rails, and boards – in addition to sleepers, beams and large sections up to 8m long.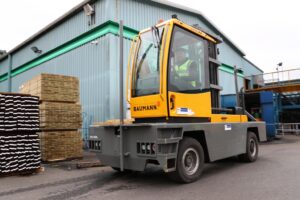 Sideloaders are essential for safely transporting long loads and the exacting conditions of the sawmills require them to be reliable and robust. Thanks to automatic deck levelling, dealing with uneven ground is a particular strength of Baumann, and a third of BSW's sideloader fleet has already been replaced by Windsor.
Group buyer, Gary Isherwood, oversees the logistics operation and praised Windsor for their local knowledge and expertise. Said Gary: "We understand our own requirements well and have a mixed fleet that has to cope with challenging conditions. We need a partner that can be relied upon, we know the quality of the Baumann equipment and needed a supplier that understood the importance of keeping us working around the clock. Happily, Windsor has a commitment to service and we are confident in their abilities to support our operations in future."
"The specification of the Baumann equipment supplied so far has been adapted to suit BSW's needs," said Jason Jordan. "Puncture-proof tyres, fleet management systems, additional lighting, camera systems and reduced diameter steering wheels are just some of the changes we've made to the standard set up. Building the right machine is a consequence of all parties having a good knowledge of the operation and working together to deliver the right solution."
The ability of sideloaders to carry long loads safely over greater distances has led to resurgence in popularity, particularly amongst ports operators, timber, metals and extrusions businesses. Windsor has been at the forefront of Baumann's UK success, twice being awarded dealer of the year.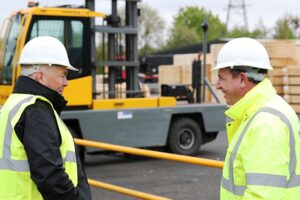 "We are growing nationally," adds Jason, "but we are very much a local business. We take pride in having local service managers who can deal with technical issues, whilst retaining the ability to manage the account nationally, reporting on KPIs, costs and breakdowns."
The materials handling business has also expanded into providing a wider range of equipment, such as Still forklifts, Unicarriers warehouse equipment and other ancillaries, as a result of more customers requiring a single supplier solution.
"Customers like consistency," concludes Jason. "We have a lot of experience in the supply of ancillary equipment such as access platforms, shunting tractors, heavy trucks, warehouse cleaning equipment. We're able to maintain a varied range of kit and we place customer service above all else. It's the sort of approach that multi-site operators appreciate, and we are delighted it is working well."
Windsor operates from 13 local branches across the UK, offering materials handling and access equipment, for sale, hire and maintenance. Established in 1977, the business is now the UK's leading independent supplier of forklifts, warehousing and access equipment.