Unicarriers TERGO ULS1400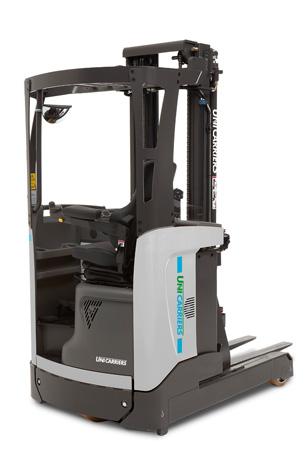 Available from £19,749
With Triplex Mast
• Personal PIN code settings: performance can be set to suit the operation or experience of each operator.
• 350 personal PIN codes are available, meaning every operator can optimise the performance to best suit their preferences.
• Tilting seat: The seat backrest tilts 18° within the cabin area – enhancing vision and ergonomics at height.
• Narrow backrest: The narrow backrest helps the operator to turn their body easier, thus reducing strain on the neck.
• Studies prove that the symmetrical working posture results in less strain in the shoulder and neck area.
• The tilting backrest, adjustable floor, left arm-rest and steering wheel position all contribute to a better working environment.
• The right and left arm-rests are adjustable to suit each operator.
• Adjustable floor: The operator can lower or raise the floor by up to 70mm, for a perfect driving position.
• A generous roof height and spacious cabin add to the operator's sense of well-being.
• Intuitive dashboard and control interface: Instrument layout and controls are perfectly positioned, angled towards the operator.
• All important operator information are clearly displayed, whilst the unique mini steering wheel reduces strain on the arm, neck and shoulders.
• Automotive pedal design: The control pedals follow the same logic as in a car – speed to the right and braking in the middle.
• When the truck stands still, the parking brake is automatically activated.
• S3 Stability Support System: ensures industry-leading safety performance, maintaining driving stability in a wide range of situations.
• When handling loads at high levels system adapts the mast tilt and reach speed for greater stability & safety.
• Dynamic Cornering Control: DCC allows higher cornering speed, but if the operator needs to avoid an obstacle, the truck automatically reduces speed for continued high level of safety.
We'd love to hear from you…