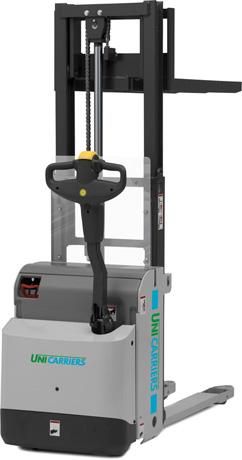 • The PSL is a robust, versatile, easy-to-use truck for material handling operations such as internal transport, order picking and stacking up to 2,090 mm.
• Lift capacity 1,250 kg.
• The offset tiller arm makes it possible for the operator to walk beside the truck and features a display and keypad for PIN code entry
• This gives full visibility over the fork and load and reduces the risk of foot injuries.
• Unicarriers's patented 4-point Friction Force chassis, including flexible connections between forks and motor-chassis, ensures constant drive wheel pressure on uneven surfaces.
• Multiple drive wheel choices and anti-rollback function contribute to safe handling on ramps and dock levellers.
• Improving safety and visibility, the offset tiller arm allows the operator to walk beside the truck.
• The ergonomic tiller head is designed for ambidextrous use and features easily accessible controls to facilitate handling.
We'd love to hear from you…