About Metsa
Fresh from a procurement process involving all the UK's major forklift suppliers, timber specialists Metsä Wood, welcomed a select number of guests to their Boston site to celebrate the implementation of a new partnership with Windsor Materials Handing.
In choosing Windsor, the former Finnforest business cited the company's independent approach and commitment to delivering additional safety, efficiency and fleet management capabilities as crucial elements of their winning proposal.
"Our key strength is industrial efficiency," explained host Mike Lomas, Metsä Wood's UK's VP of Operations. "We continuously demand more from both ourselves and our partners, as we look for true commitment to partnerships, quality in production and reliability in operations."
Making the right choice
Metsä Wood is part of Metsä Group, a unique Finnish co-operative comprising some 123,000 forest owners with 5.2 million hectares of forest land under its control (about 46% of all private forests in Finland) and 13,000 employees globally across 20 countries.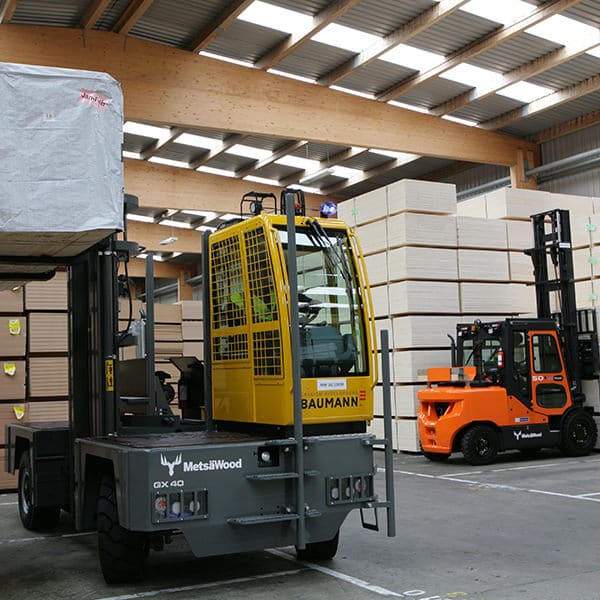 The UK operation covers four manufacturing and distribution sites focused on softwood planing lines at Boston and Widnes; MDF processing at Boston and the manufacture of Finnjoist i-beams and a timber treatment facility at King's Lynn.
Gary Isherwood, operations purchasing manager at Metsä Wood UK, said: "Our commitment to improving our operational capabilities is a key part of our ethos, as is delivering industrial efficiencies across the business. In this instance, we really wanted to focus on allowing the operator to drive the truck, whilst the service provider takes care of the rest."
The results
Metsä are clearly delighted with the outcome of the procurement process. As well as delivering a new nationwide service partner, it also features newly-developed equipment from both Doosan and Baumann, floor care units from Nilfisk, a high level of fleet management and utilisation data provided by GPS trackers from Fork Truck Controls, and custom-designed improvements and upgrades by Invicta Attachments.